National Geoscience Research Laboratory
The National Geosciences Research Laboratories (NGRL), Kaduna is one of the Centres of excellence established by the Nigerian Geological Survey Agency (NGSA) to conduct analytical tests on rocks, minerals, water in line with the responsibilities of the Agency which is to generate, collate, archive and disseminate geosciences data and information.
With the array of state-of- the-art equipment, as well as highly trained personnel, the Centre provides analyses of rocks, ore minerals, soil, sediments, sludges, water, agricultural and metallurgical materials to the geologic and environmental research communities. These services to a large extent has provided credible support to the geosciences and mining communities.
Collaborations
The centre has established academic and technological exchange programs with many countries and international organizations all over the world: China, Britain, Australia, Holland and South Africa. We also collaborate with various institutions, corporate bodies, individuals and researchers in Nigeria.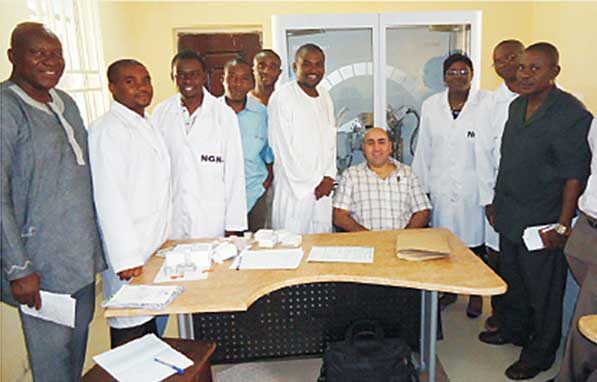 Geophysical ground follow-up investigation for suspected base metal sulphides at Ijebu Igbo southwestern
Geochemical analyses of Rocks, Minerals, water, sewage and Soil samples.
Mineral separation and dressing as well as rock crushing.
Site investigation/ foundation studies/ rock and soil classification tests
Preparation of thin section, polished rocks and mineral samples.
Petrographic and mineralogical studies.
Laboratory forensic examinations.
Training and development of quality control programmes for laboratories
Sedimentological / paleontological analysis.