The impediment to economic growth and the challenges of mono-economy has prompted the Federal Government of Nigeria (FGN) to generate interest and develop urgent policies on rejuvenation of the solid mineral industry in order to diversify the economy (Alabi et al., 2016). Solid minerals of different varieties are largely available in Nigeria, these cuts across States of the Federation. Among the minerals is copper ore which is found in Azara and Akiri area of Nasarawa State besides States such as Bauchi, Zamfara, Niger and the Federal Capital Territory. The need to harness these mineral resources for wealth creation and poverty reduction in tandem with the FGN's policy made NGSA to embark on geophysical survey for copper deposits in Azara area of Nasarawa State.
Copper being a strategic mineral, hence its occurrence, mineralization and exploration will assist greatly in the understanding of geological structures, delineating anomalous copper deposit and if possible its reserve estimate. This will assist investors greatly in making investment decisions and further expand the copper resources of the nation. Copper and its alloy are well known for their excellent and near perfect electrical and thermal conductivities, resistance to corrosion and ease of fabrication etc.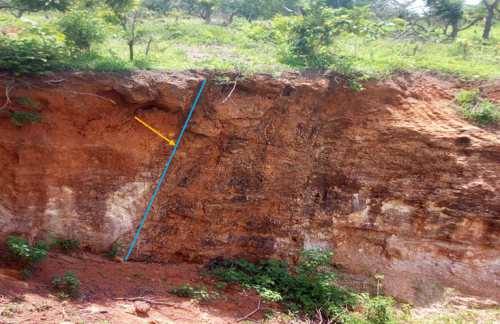 In 2019, the Economic Geology Department of the NGSA carried out preliminary assessment of the copper deposits of the Azara metalogenic province. From the umpublished report, the potential copper resources fall within the Middle Benue Trough. It occupies the northeastern limb of the Keana anticlinorium of the Middle Benue Valley. According to the report, copper ores occurs as discordant, fracture controlled veins within the lower Cretaceous sandstones/shales of the Asu River Group. The major copper ore in the area is Chalcopyrite, with associated Azurite and Malachite.
During the assessment of the deposit by the Department of Economic Geology samples were collected from pits and trenches at mining sites in the area. From the twenty-five (25) samples analyzed, the occurrence of copper in the project area trends the Southwest-Northeast direction with highest concentration (19.01%) in the Akiri area. Nickel, Lead and Zinc mineralization is almost in the same trend (SW-NE) as the copper sampled in the studied area
In this geophysical investigation for copper mineralization, magnetic, electromagnetic (EM-VLF), resistivity and IP methods have been integrated and applied to map out mineralized veins in the area. Integration of these methods can delineate Copper mineralization with a high degree of confidence.